A moving and hilarious story about an ordinary day in a bench's life
It's so mundane, the bench, and yet so magical! Everywhere in cities, parks and gardens it stands, like an open invitation. Sometimes the bench's visitors merely brush each other, at other times it evolves.
An elderly lady does everything she can to keep life at bay – from her bench. But the hectic surroundings take her by surprise. If only they could let her be old and grouchy alone! But the boy is skateboarding, the dog is sniffing and scuttling around, the birds are chirping, and a friendly, elderly gentleman wants to read his newspaper. All of this is a nuisance!
International touring:
'The Bench' will be avalilable for intenational touring in 2024-25.

For more information, contact our producer Lisbeth El Jørgensen: lisbeth@refleksion.dk / (+45) 8624 0572.
Pictures from rehearsals – trailer is coming soon.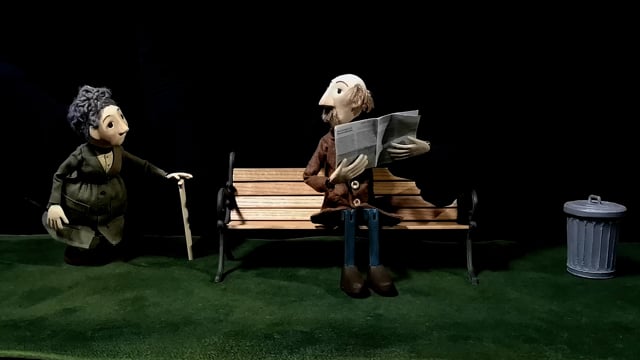 Theater Teater Refleksion
Performer Rebekah Caputo, Neasa Ni Chuanaigh
Script Sven Ørnø
Director Bjarne Sandborg
Set design/Puppets Amanda Axelsen Sigaard
Music/Sound design Andreas Sandborg, Jacob Venndt
Workshop/Tech Morten Meilvang Laursen, William Højberg Nielsen