About the light and magic of the night
Teater Refleksion and Andy Manley
The blackbird sings to welcome the night. The day slows and soon all are asleep.
All except one who cannot sleep.  A child, curious to know who looks after the night.
And so begins a magical journey through the dark and beautiful night until the blackbird sings again to welcome a new day.
Night Light is co-produced with Imaginate and Red Bridges Arts, commissioned through the Scottish Government's Edinburgh Festivals Expo Fund, The Danish Arts Foundation and The Municipality of Aarhus.
"Quietly humorous and gentle, Night Light is a wonderfully imagined dream world. The entire team has created a cornucopia of wonder"
★★★★★☆ – Edinburgh Guide
"A beautiful immersive experience"
★★★★☆☆ – The Scotsman
"A delicate and delightful work of object theatre"
★★★★☆☆ – Sunday Herald
"An exquisite, captivating instance of children's theatre at its best"
★★★★☆☆ – The Herald
For more information about touring, contact our producer Lisbeth El Jørgensen: lisbeth@refleksion.dk / (+45) 8624 0534.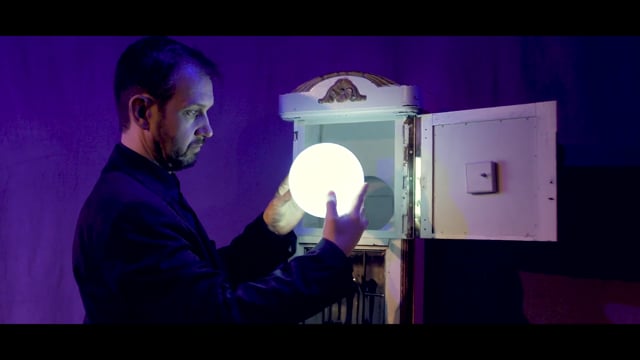 International tour dates 2021/22:
November 27th – 29th 2021: Les Boréales Festival, Blainville sur orne (FR)
December 5th – 8th 2021: ADHOC Festival, Le Volcan, Le Havre (FR)
February 4th – 6th 2022: Imaginale Festival, Stuttgart (GE)
March 20th – 21st 2022: KucKuck Festival, Munich (GE)
Performer: Andy Manley
Stagehand: William Højberg Nielsen, Suzie Norman
Manuscript: Andy Manley
Direction: Bjarne Sandborg
Set design: Mariann Aagaard, assisted by Amanda A. Sigaard and Rebekah Caputo
Sound design: Daniel Padden
Lighting design: Anders Kjems
Workshop and tech: Morten Meilvang Laursen, William Højberg Nielsen
Photo: Bo Amstrup