Legendary classic retold with puppets
A feud between two families has lasted for decades, and has been inherited. But what will prevail – love or tradition?
With humor and ingenuity, the touching tale of Romeo and Juliet is made heartfelt, lively and dynamic. Two, whose love will not succumb to fear, prejudice and power. Full of emotion and issues both children and adults can recognize.
"Teater Refleksion's puppet version of 'Romeo and Juliet' doesn't just rewrite Shakespeare's classic as a childrens' fairy tale. …It simply tells the entire gruesome tragedy in a way, children understand." – Theatre News
For more information about touring, contact our producer Lisbeth El Jørgensen: lisbeth@refleksion.dk / (+45) 8624 0534.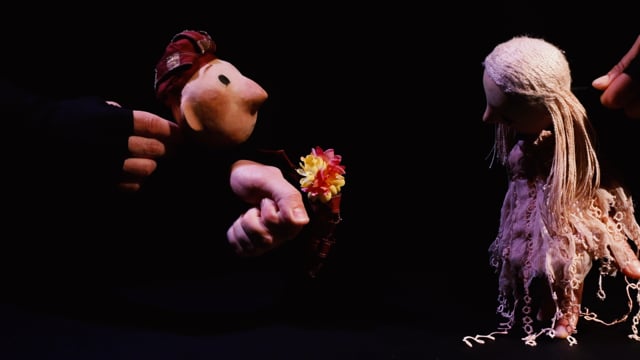 Performers Sif Jessen Hymøller, Aapo Repo
Playwright Jesper B. Karlsen, freely following W. Shakespeare
Director Bjarne Sandborg
Set design Mariann Aagaard, Niels Willum, assisted by Amanda Axelsen Sigaard
Puppets Mariann Aagaard, Amanda Axelsen Sigaard
Music/sound design Jacob Venndt, Morten Meilvang Laursen
Lighting design Morten Ladefoged
Workshop/tech Morten Meilvang Laursen, William Højberg Nielsen
Photo Bo Amstrup
Special thanks Frederik Leopold Corneliusen