A home in a new land
Created by Rebekah Caputo / Teater Animisme and co-produced by Teater Refleksion as part of the project Animatoriet
DING!
We will shortly arrive at your destination. Please have your papers ready and remember that not all new starts are easy.
How does it feel to be new? Arriving in a place where you do not understand anything, do not know anyone? You feel different and look different. What does it take to feel like home? What does is take to belong?
Belonging explores being foreign in a new land, based on collected stories and memories from immigrants and refugees.
"Enchanting puppet show about immigration… With beautiful pop-up scenery and puppets created in paper, Rebekah Caputo from Teater Animisme in Belonging tells a wordless but clear story about feeling lost in the middle of an alien world." – ★★★★★☆ Iscene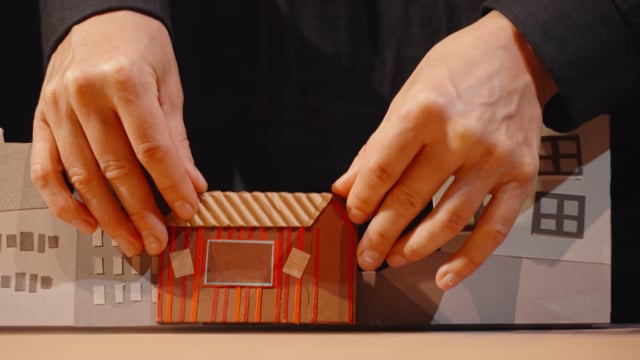 Performer: Rebekah Caputo
Idea and concept : Rebekah Caputo
Director: Bjarne Sandborg
Set design: Pernille Madsen, Rebekah Caputo, Arnau Olesti Recasens, Beatriz Pérez Ruiz
Puppets consultant: Sif Jessen Hymøller
Music / sound design: Rob Mackay, Morten Meilvang Laursen
Lighting design: Morten Ladefoged
Workshop and tech: Morten Meilvang Laursen, William Højberg Nielsen
Poto: Christoffer Brekne