Small musical stories with abundant imagery about being a small person in a rather remarkable world – CANCELLED
Co-produced with Teater MY.
A white tent envelops the audience gently and comfortably. 'Songs from Above' is performed in a bright universe of light and stars with focus on the joy of recognition and of memory.
"Bliss upon bliss. The tranquility enchants and the intimacy of life gives it wings."
★★★★★☆ – Århus Stiftstidende
"What's so inspiring about this Danish co-production is the way they shape the experience, making it appropriate and inviting for very young children"
★★★★☆ – The Herald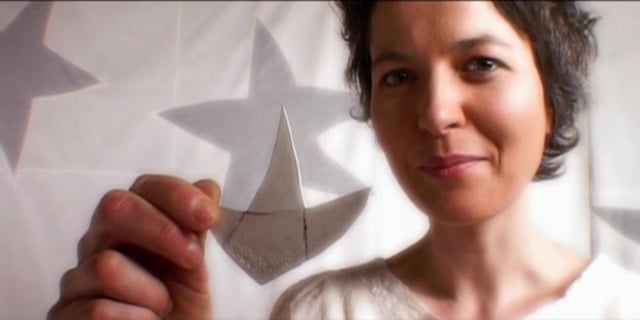 WHAT DOES CORONA MEAN FOR YOUR THEATRE VISIT?
You can find all the show guidelines for various schools and institutions HERE.
Please pay special attention to the following guidelines for evening and weekend shows:
• All 2020 shows have been put on sale with a reduced number of seats in the halls.
• When buying more than one ticket at a time, you'll get a matching number of adjacent seats. Accordingly, there'll be a distance of less than one metre between the persons in the group. All groups will be given seat numbers upon arrival for the show.
• If you wish to keep one metre between you and your neighbours (from nose to nose), each ticket must be bought individually. For logistical reasons, we cannot guarantee that you'll be seated next to each other in this case. You'll be given a seat number upon arrival for the show.
Performers: Lisa Gertum Becker, Sigurd Dissing
Text: Mette Rosleff
Idea: The Production Team
Direction: Bjarne Sandborg
Set design/puppets: Mariann Aagaard, assisted by Sofie Faurschou Hastrup
Music: Martin Vognsen
Lighting design: Jesper Hasseltoft
Workshop/tech: Morten Meilvang Laursen, Vibeke Pagh Schultz
Photo: André Andersen